Resourceful smugglers
Smuggling was common in the border area and smugglers used their inventive resources as well as bribery.
Members of the Thomsen family lived on both sides of the river Kongeå. Thomas Thomsen was the innkeeper in Skodborg and a member of the Schleswig stænderforsamling (Assembly of the Estates of the Realm). One of his brothers, Peter Thomsen, was the innkeeper in Vejen, and a member of the Assembly of the Estates of the Realm in Viborg
Thomas Thomsen had a schnapps distillery, and he often smuggled schnapps over the border to his brother in Vejen. He did this with the help of the double-bound wagon, which he used when he collected peat in Vejen. The wagon body was filled with peat, while the double bottom concealed a sheet metal container with the schnapps for his brother

The smuggling was successful for a short while, but was discovered at some point.

Smuggled with the customs officers own horses
Once Thomas Thomsen invited the customs inspector, his assistant and the border policemen to a birthday party. They drove over from Foldingbro and Skodborghus and were well and truly entertained.

While the guests were partying, Thomas Thomsen's wagons with contraband goods were attached to the customs officials' horses. The horses pulled the smuggled goods across the border, which had been left unguarded in honour of the occasion.

When the customs staff went to leave later that night, they wondered why their horses were sweating so profusely. Thomas Thomsen explained that the horses had also held their own party in the warm barn.

Place: Skodborg
Source: P. Eliassen. Kongeåen eller den gamle grænse. 1926.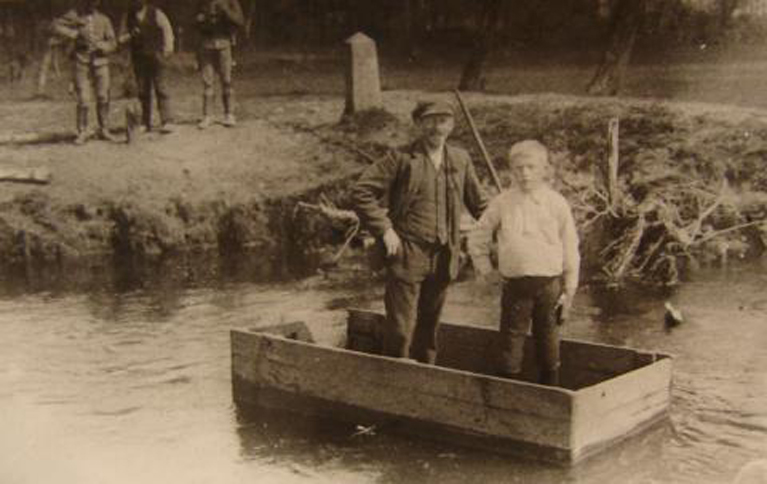 Lots of contraband goods were smuggled across the border along the river Kongeå.